DISTRIBUTORS, INCREASE CUSTOMER LOYALTY IN DEALERSHIPS
WITHOUT A DEVICE OR INSTALLATION, ACCESS THE MAINTENANCE DATA OF YOUR CUSTOMERS, WHATEVER THE BRAND OF THEIR VEHICLES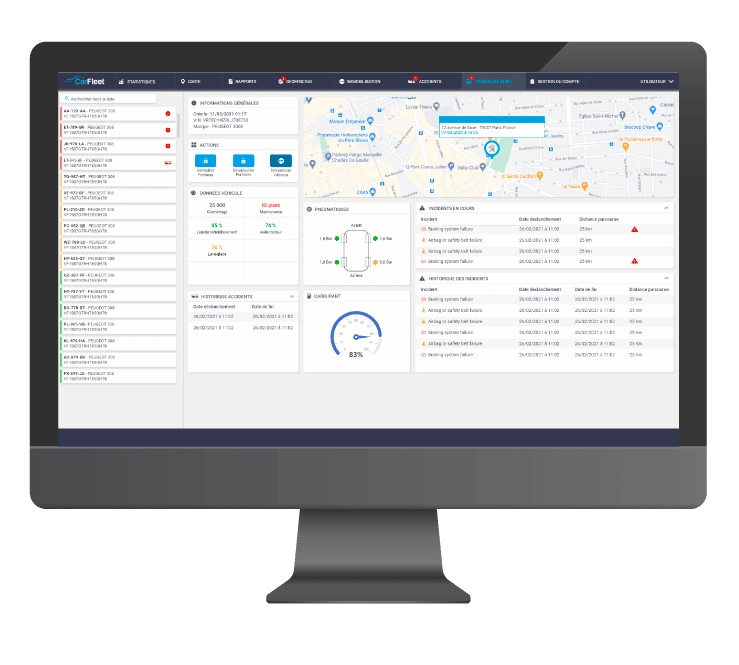 Centralise the maintenance data of your customers' vehicles remotely:
– Mechanical failures: tyres, levels (oil, ADBlue, brake fluid, etc.), engine, anti-pollution, security systems (airbag, belts, ABS, etc.), brake pads, range,
– Mileage, location, …
– Accidents: notifications, impact zone, …
Anticipate your customers' maintenance/repair needs:
Your customers give you the task of receiving alerts. In the event of a vehicle failure, the leads are transmitted to your call centre, enabling you to contact your customers as quickly as possible and offer them a maintenance/repair appointment.
AS SOON AS THE KEYS ARE HANDED OVER,
INCLUDE CARFIDINTO THE START-UP PACKAGE
... AND MANY MORE TO COME!